A METAVERSE I.T HUB

WALK. TALK. HIRE
Your Imagination Our Creation
It has been almost 12 years, when our web solutions started with a small team. In 2010, we named ourselves as 'Xaviera Techno Solutions' – Your imagination, our creation. Enlightened with our epic rate of success and huge inflow of fresh projects, we decided to grow our team. Today, a team of highly experienced and versatile 20+ Creative Designers, 15+ Developers and 15+ Data Entry Operators work together to deliver you highly refined and splendid web service solutions. Approach us, let us know about your imaginations and aspirations, and we will help you effectuate them into a reality, almost instantaneously!
We are providing IT related services and offering Business solutions using latest IT techniques.
Database Development, Web Programming, Website Designing…

Logo Design, Business Card, Letterhead, Envelope…

Data Entry, PDF to Word or Excel, Web Research…
Blockchains or the Distributed Ledger Technologies are mounting a new backbone of the internet….
Dedicated Development Center
Hire experts and setup a remote team to minimize infrastructure and maintenance cost.
Quality Assurance Services
Manual & Automated Assurance Solutions to enhance your product & services reliability.
Blockchain Development Service
Smart Contracts is a Blockchain service which enables designing, development, auditing and optimization of smart self-executing codes for business contracts so as to automate the work flow.
Developing permission private Blockchain applications where the members are allowed to be a part only after an invitation or offer from the network initiator.
Supply chain Blockchain allows a shared access to all the parties within the chain. This significantly improves traceability and transparency and reduces infrastructural & administrative costs.
Developing Cryptocurrency exchanges based on their own token development. The crypto-coin or Token is developed using secure programming algorithms providing a reliable crypto exchange.

Pair an open source Blockchain with collaborative tools using smart contracts to be used globally across any industry or enterprise.
Designing most secure and user-friendly wallets for storing crypto-assets usually coins/tokens.
Get your ICO pitched across the globe with our extensive and most comprehensive crowdsale services.

Elaborating Proof of existence services to bring about the technical viability of the project and the market prospects & potential.
Strategic planning and advice over Blockchain application development, R&D, management, financial constraints and providing adept training.
We thoroughly undergo an exhaustive research session before we actually start our work. This research is crucial as we understand that we need to beat our competitors through our out of the box and never like before ideas.
Not only do we use the latest web tools and software to provide you superior web solutions, but we also give you that magical golden touche of our indigenous creativity to your project – such that our work remains idiosyncratic, forever!
As said earlier, we use the state of the art tools and techniques to give a thorough shape to your dream project. We provide you with an array of samples to choose from – so probably, you may find it difficult to select your 'dream' sample from the rest.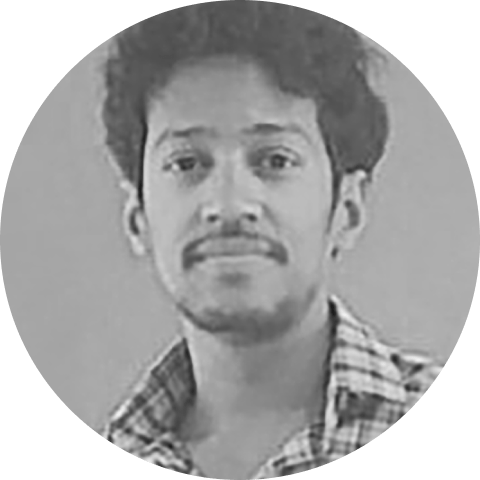 Kashif Xaviera
Chief Executive Officer
Ayyappan Mookaiya
Technology Lead
Manikandan K
UX Designer
Ajaykumar R
Assistant Developer
Ankit Kumar
WordPress Developer
Navdeep Garg
Blockchain Developer and Advisor